Regular followers of the blog know that I am interested in any cast news about my favorite DC superhero
Wonder Woman
.
Well, what do you expect me to say, that I prefer Superman or Batman? Or
Robin??!
How about Aquaman? Yecch. Actually, I really prefer the Marvel superheroes, especially Spider-Man. But I gotta say I kind of have a big cartoon crush on Wonder Woman, ever since seeing that TV show as a kid. She's beautiful, plus she's got great superpowers. I definitely want my girlfriend to be Wonder Woman.
Well, the latest hot rumor for the
Justice League of America
flick that's coming out is that the WW role in that movie is
going to go to hot Australian supermodel Megan Gale.
Lucky girl.
I'll believe it when I see it, though. (They said the role was going to
Jessica Biel
a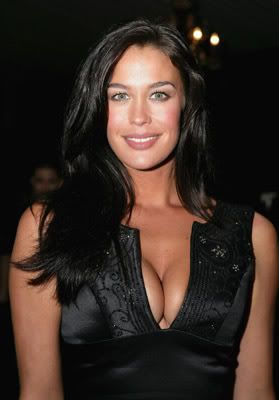 few weeks ago.) I think this is interesting, if true. This would be a move towards putting a
hot, sexy actress
in the Wonder Woman role -- just like they put a scorching-hot
Eva Green
into that
James Bond
movie a year ago. Megan Gale is definitely going to ante up the
sex factor
for the guys if she's in this movie. Incidentally, there are plenty of NSFW photos
of this woman on the Internet, thanks in large part to a shoot she did for the Italian publication
Max
some years ago. Those lucky Italians, eh? They have all the fun.
If Megan Gale really did get the role then I think it's a good choice, because she's
gorgeous!
Megan really does look like someone who could be
Wonder Woman
. We'll see.