Oh, to heck with that, I want to talk about girls.
THIS BLOG IS TURNING INTO AN IMITATION OF
MAXIM MAGAZINE
.
You know, I am really getting to be quite girl-obsessed on this blog - what with my posts about
Erin Burnett, Erin Esurance
, basically anyone named
Erin.
I've also posted on
Sienna
Miller
, and been posting photos of cheerleaders and drooling over women who are posing for Playboy (ie. former Miss Universe
Alicia Machado
).
Basically, I go crazy over these
Playboy
babes (esp. the
Playmates
), the
Dallas cheerleaders
and the
Miss Universe
winners. That's who I go crazy for the most. I just think there's something magical about a woman who is a Miss Universe or a beauty pageant winner. I also think there's also something really special about a woman who wears a pro-cheerleader outfit on the sidelines, kicking it up in those boots. Those uniforms the cheerleaders wear are sooooo cute.
Like I say, I need to look into these speed-dating things or something like that, just to get my mind off of women.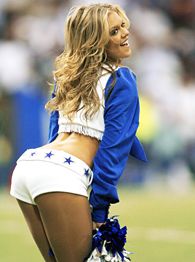 Some news about the
Dallas Cowboys Cheerleaders
to pass along. Apparently they aren't just putting out a swimsuit calendar like they always do for 2008. Now they are planning a calendar where you get to see these women on the sidelines in their famous cheerleader uniforms. I think this is great news. These women are much sexier in their uniforms than in any swimsuit.
Anyway, for my amusement I've decided to post some more pictures of those hot, bare-midriffed Texans from Dallas.
I wonder if any of these Dallas cheerleaders are named Erin. Wouldn't surprise me.
(That does it, I have to put a stop to this. No more girls on this blog.)