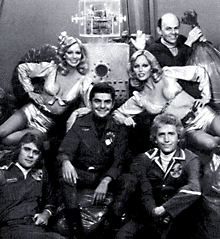 (Pictured: the cast of
Quark
. Check out the leggy blondes.)
Hot on the heels of my declaration that I would do a "Women I Love" post every... so often, I thought I would post today about the
Barnstable Twins
.
Turns out I ran across some old episodes of the sci-fi show
Quark
over the Internet this weekend. It's a sci-fi spoof series from 1978 that starred
Richard Benjamin
. He plays
Adam Quark
, captain of a space garbage scow. You might automatically think this show was a piece of, uh, junk, but it actually got some decent reviews. It was created by
Buck Henry
, who of course was one of the creators of the spy spoof
Get Smart
. It seems to me that what this show was trying to do was be a science-fiction version of
Get Smart
. This was 1978 and
Star Wars
was all the rage, and
Star Trek
was getting its movie franchise started up around the same time. So the whole genre was ripe for parody. But this series didn't last very long; only eight e
pisodes were produced. It was scheduled by NBC as a midseason replacement for the flop
Sanford and Son
spinoff
Sanford Arms
, and was mowed down in the ratings by
Wonder Woman
and
Donny and Marie
on Fridays.
Anyway, a
Quark
episode was posted at YouTube
and
there's a site devoted to the series
which has some old episodes on it that people can watch. Fun stuff. Unfortunately there's no DVD of the series yet, but some people are hoping that will happen soon.
Anyway, the best thing about the show were the
Barnstable Twins, Cyb and Tricia.
They played the identical-blonde hotpant-clad hotties,
Betty I and II,
on the show. The joke was that one of them was a clone of the other, but neither of them knew which one was which. Anyway, I loved their outfits (this was the Seventies, after all) and thought these two girls were drop-dead gorgeous! Before they babed it up on
Quark
, Cyb and Tricia were best known as the "Doublemint Twins" from the famous series of commercials for Wrigley's Doublemint chewing gum.
They later appeared as guest stars on TV shows like the
Love Boat
and in 1981 they graced the cover of
Playboy.
But the
Barnstable Twins
never did get as famous as
Audrey and Judy Landers
. The one big thing the Barnstable sisters had going for them was that they were gorgeous identical twins (unlike the Landers sisters who, incidentally, weren't twins). They were able to capitalize on that, but they were kind of limited in that respect--- there are only so many roles that identical twins could play. So they did not end up as big stars.
Anyway, the other reason why I mention these two is because the
Kentucky Derby was on this weekend
, and these sisters play an instrumental role in throwing a big star-studded bash every year at the Derby. It's called the
Barnstable Brown Gala
and it's held on Derby eve, and that's probably what these sisters are best known for these days. It's the see-and-be-seen event of the whole weekend, with attendees including bigshots like
Richard Branson, Cheryl Ladd, Bill O'Reilly
and the like (
Bill O'Reilly?
). Notably, I read that noted racing fan
Larry Birkhead
met
Anna Nicole Smith
for the first time at the Barnstable Brown Gala, so that's something interesting for you tabloid fans to ponder. In fact, I noticed on ET that Larry was there at the party again this year, hangin' with the likes of
Gene Simmons
and all those famous people. Bottom line is that these two twins Tricia and Cyb know how to throw a party and get all these famous people to show up.
There you go, my piece on
the Barnstable Twins
, which proves once and for all what a big TV geek I am. Posting on an obscure show like
Quark
-- yes, I am a geek.