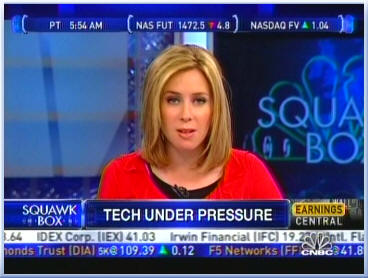 Well, the folks over at
Fishbowl NY
completed
their big Money Honey poll
and they announced that the winner is none other than the brainy, well-informed Squawk Box financial news babe
Becky Quick
.
Way to go, Becky
. I voted for you, too. Here's a link to a
web site
that some fan put up in her honor.Becky can now rightfully claim to call herself the
Money Honey
--- or at least the
new
Money Honey
. What's
Maria Bartiromo
going to do about this? I think she should sue; that
TM
ought to be worth something.
As for Becky, she should ask for a raise. She won with 54% of the vote, clobbering Erin Burnett who finished with 17%, in spite of her hype and her overall hotness, and the fact that she's apparently losing weight. (She must be working out.) One voter said of her: "I'd like to vote for Erin, but with her rise in airtime, she appears to be dropping more and more weight. The overly skinny look just doesn't cut it for me." As for Maria, she only got 12% so she ought to fire her campaign manager.


I guess
Sue Herera
doesn't have too many fans because she only got 5% of the vote. I get a laugh reading some of the comments of some of these voters. My favorite was the one about
Liz Claman
. "If you only knew what she looked like before she got married and had children ... OMG." There was also a supporter offering a write-in vote for
Michelle Caruso Cabrera,
saying she is "cuter than all of them".
Anyway, enough of that, this poll is sooooo silly and stupid. Next they'll do a poll to see who the hottest male is at CNBC. Don't tell me, let me guess:
Jim Cramer
(LOL).