Well, in the wake of TIME magazine's infamous declaration that "you" are the Person of the Year, I feel compelled to point out the real reason why YouTube is popular. No, it's
not the amateur videos. Instead, it's the professionally-done stuff that has ended
up on here
that is popular. It's the clips from TV shows, or the leaked clips from pilots, or the breaking news videos and goof-ups from actual newscasts that are the reasons why this service is so popular.
It's also a great place to find long-lost cool stuff from long-lost TV shows. This, my friends, is why YouTube is great--- not this
Saddam Hussein
hanging business, although that was good, too. As I say, revolution my foot. TIME really misses the boat.
So without further ado, here I post some more cool links to cool YouTube videos I found.
LOVE THAT BOB
Here is a link to
footage from the TV series Love That Bob
, which ran in the 1950s and starred
Bob Cummings
. Believe it or not this series also featured
Ann B. Davis
of
The Brady Bunch
fame, and she actually won two Emmys for this crappy, forgotten series. So check it out.
INGER STEVENS
Also check out the
rare closing titles in black and white
to
The Farmer's Daughter
, a 1960s sitcom that is pretty much forgotten now but which actually ran for a few years. This comes complete with an ad for Lark cigarettes! This series starred
Inger Stevens.
(Someone with time on their hands actually posted video from the movie
A Guide for the Married Man,
where Inger really
sexed it up
for her role: she was seen
working out
and
wearing a bikini
.)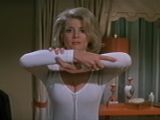 UPDATE- Apparently the video from the Farmer's Daughter is down but you can still see Inger's
Lark
commercial
here.
Plus, I added a picture of this beautiful woman.
Man, it's so sad
seeing these old clips of this gorgeous actress who died so young--- Inger Stevens comes across as such a sweetie.
ANOTHER UPDATE- The
Farmer's Daughter
clip is
back up
.
JASON KING
Here are the
opening titles
to another series,
Jason King.
This was a British series that aired around 1972. I actually remember seeing this show on TV at one point in time but had forgotten the name of it. Trying to remember what the title was drove me nuts! I literally stumbled upon the video for this ITC series that starred
Peter Wyngarde
. By the way, the stunningly beautiful woman Jason King shares a drink with in the video is none other than Hammer Films actress/hottie
Ingrid Pitt.
I understand this series was an inspiration for the
Austin Powers
movies as well--- apparently Austin was sort of based on Jason King. Anyway check out a
webpage devoted to the series
.
HOT-LOOKING SIXTIES WOMEN
You wouldn't believe the videos on YouTube featuring these terrific actresses from the 1960s that I'd forgotten all about, particularly these videos of these
actresses that have been dead for years
(ie.
Inger Stevens
). I'd run across some video featuring some femme fatale from the movies and be surprised that I'd never heard of her before, because I'd think she's terrific.
For instance, here's
Marisa Mell in the movie Danger: Diabolik
. She played
Eva Kant
in the movie and
spent most of it wearing
go-go boots
. In fact, this was her most famous role. This is a woman I never really heard of until recently. Now that I know who she is I think she's hot. I just thought this clip of Marisa Mell was
so cool
; she looks
great
in hotpants!
Apparently the movie features music from
Ennio Morricone
and this is the title track you hear in the background, "
Deep Deep Down
". Wow, this movie looks good. And so does Marisa (pictured wearing boots and hotpants, of course).
(Update.) For those of you new Marisa fans who want more information about this gorgeous lady and her career, here's some links to
Cult Sirens
,
Brian's Drive-in Theater
, and her
imdb
page.
Other stuff; here is
Joi Lansing
singing Web of Love
. I saw this cheesy video one time on
MuchMusic
and remembered it for all time. This was a
Scopitone
video that was played in these video jukeboxes.
I gotta say, YouTube is great, but it's got nothing to do with these amateur videos. Who cares about that, it's this old long-lost stuff that's great.